Greetings,
It's been a while since we last wrote. We have been busy working on a lifesaving venture. I am thrilled to share the news that Francisvale Home for Smaller Animals and Providence Animal Center have affiliated in order to better serve our communities.
Providence Animal Center (PAC), formerly known as the Delaware County SPCA, is located in Media, and was established just two years after Francisvale, in 1911. Both organizations have extensive histories, and both organizations are surrounded by memorial pet cemetery. PAC is dedicated to offering exceptional, affordable and life-affirming rescue, adoption, medical care and training of companion animals. As you know, Francisvale is a no-kill shelter whose mission is to accept cats and dogs in need, ensuring they receive any medically necessary treatment, including spay/neuter, and provide loving care while looking for permanent homes as well as to educate the community to raise awareness of the plight of homeless pets. Moving to an affiliation with PAC provides Francisvale with the opportunity to honor and expand upon our commitment to that mission. Francisvale will retain its name and identity as well as the vast grounds, which we're working on cleaning up – all in preparation to welcome animals and programs back to Francisvale this summer.
Speaking of animals, nearly all of the pets who were living at Francisvale have moved on to forever homes thanks to an incredible effort by the Francisvale and PAC teams. One special boy from the Francisvale crew remains: Bentley, an 11-year-old lap lover. Bentley previously suffered from diabetes, but he's been in remission for three months now thanks to the loving care of PAC's medical team and his devoted foster family.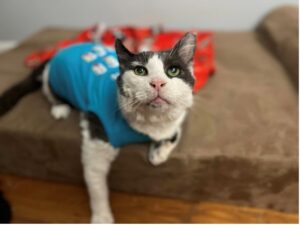 Since last spring, I have been working closely with the PAC team, and it's been the most rewarding experience. Visiting their Center in Media and seeing the enthusiasm for lifesaving that their team exudes only solidifies the decision to team up to save lives. They have been a true partner since day one.
We are grateful to have this opportunity with PAC. If you have any questions about this exciting venture, please don't hesitate to reach out: Francisvale@ProvidenceAC.org.
Ellen H. Funk
President, Board of Directors,
Francisvale Home for Smaller Animals